Warsaw Community High School was fortunate enough to qualify students to the national speech tournament in Louisville, KY. In our first year back in person, since covid, WCHS had four students who qualified to compete at the national tournament:
Senior Kylee Anders: District representative in Drama. She will be performing an emotional story surrounding a physically crippled woman.
Senior Jessica Pogue: District representative in Humor. Jessica will be doing over 9 characters and voices to show the frustrations of dealing with the help desk.
Junior Jason Benyousky: District representative in POI. He will be performing a collection of poems, stories and some disappointing aspects of love.
Junior Keely Roe: District representative in United States Extemp. Keely will have 30 minutes to prepare a 7 minute speech on a domestic current event topic.
Kathryn Anders, WCHS Speech Club Sponsor, is looking for various sponsors to help with the team's hotel rooms, vehicle, and entry fees. The current cost breakdown for this endeavor is as follows: $5000 for hotel expenses, $650 for entry fees, food costs, and uber transportation to the competition site.
Please consider becoming a sponsor for these students.
Kathryn explains, "Every year, we think about the contributions we want to make to organizations. This is quite simply the easiest check that you will write this year! Currently, we have a 1:1 sponsor who has stepped up to match any donations, up to $2000.
Donors may send donations directly to the school. Please make check payable to:
Warsaw Community High School
Attn: Speech Club/ Kathryn Anders
1 Tiger Lane
Warsaw, IN 46580
This is Warsaw Community Schools 6th year of having a speech team. The first two years was a feeder program at Edgewood Middle School. After four years at Warsaw High School, several students have competed at the state and national level.
Head coach Kathryn Anders stated, "We have been very fortunate to have a great amount of success early on. The amount of confidence and speaking skills go way beyond trophies and ribbons. These students will carry these skills with them their whole lives."
Coach Anders started the speech program after watching her mother, Carol Anders, coach and mentor speech and debate students for close to 30 years. The speech team is accepting of all students and talents. Kathryn adds, "I saw the difference Carol Anders was making in students lives and knew that Warsaw would benefit from this worthwhile program."
---
Photo Above: Donation from Morning Optimist
Kathryn Anders, Shari Benyousky, Jim Smith, Austin Donovan
---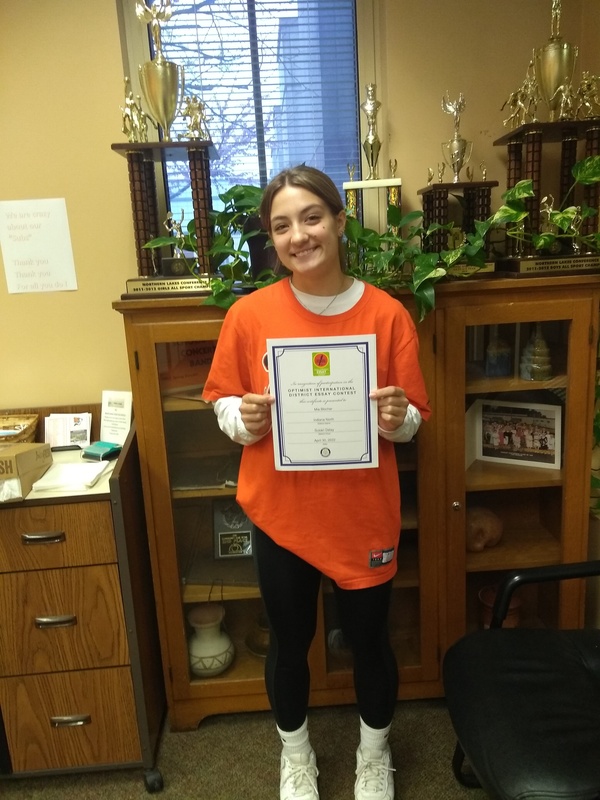 Mia

Blocher, Optimist International District Essay Contest

#wcsmission #togetherwearewarsaw