WCS Communications Department
Our mission is to inspire and equip all students to continuously acquire and apply knowledge and skills while pursuing their dreams and enriching the lives of others.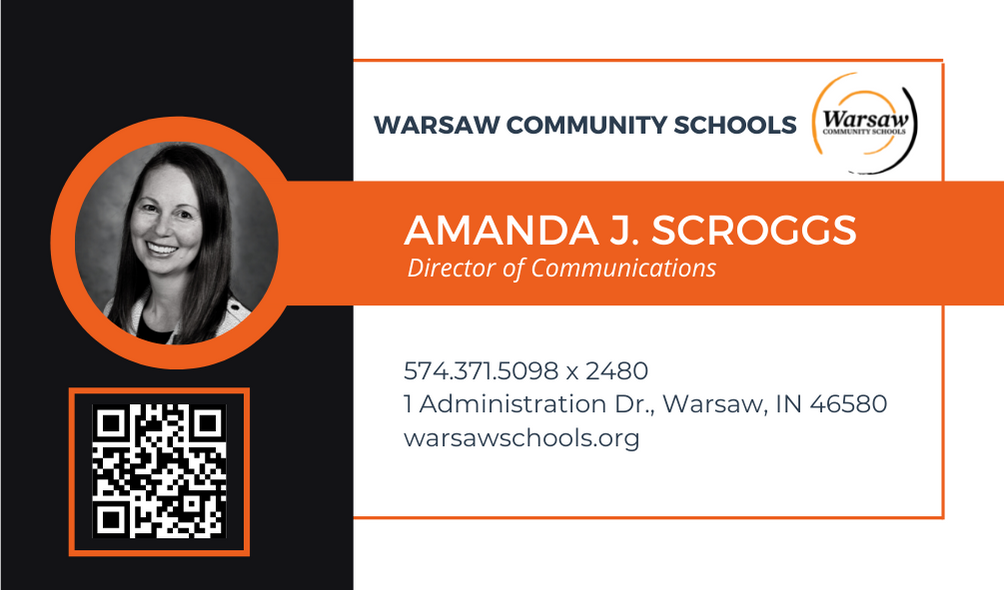 Media Relations
Media relations are managed by the Director of Communications. All inquiries should be directed to Amanda Scroggs at ascroggs@warsawschools.org
(574) 371.5098 x 2480
Amanda Scroggs is responsible for district communications, marketing, and website development and maintenance. She oversees media and public relations, and social media platforms. She promotes community outreach, branding, promotional materials, marketing events, and strategic communication plans.
Amanda Scroggs supports the overall internal and external communication functions of the district. This includes working closely with Dr. David Hoffert, Superintendent, Dr. David Robertson, Assistant Superintendent for Secondary Education, and Dr. Dani Barkey, Assistant Superintendent for Elementary Education.
Communication Strategies
WCS, through its partnerships and platforms, is committed to supporting targeted school information and news at the district, school, and classroom levels.
As modern communications channels expand and evolve, WCS recognizes the importance of delivering accurate, relevant, timely, and engaging content.
In today's digital, the mobile world offers opportunities to connect how and when individuals prefer.
Staff, students, parents, and other key stakeholders can access vital information through WCS websites, school notification systems, free mobile apps (Apple/ Google Play), media partners, and social media.
Warsaw Community Schools hosts 16 websites - one for district news and one for each of the corporation's 15 schools/programs. Features include a robust search engine, a message feature, language translation, document folders, staff contacts, news, live feed, and events.
Alerts & Notifications:
Delay & Cancellation Protocols
Weather Alerts:
Dr. Hoffert will email ALL WCS Staff.

Notifications will be sent to:

The WCS APP;

ALL WCS Websites;

ALL WCS Twitter Accounts;

ALL WCS Facebook Accounts;

District Instagram Account;

TEXT Message to ALL Parents/Guardians in Powerschool.