Warsaw Robotics Tournament Skills
WCS District
Tuesday, February 09, 2021
Pictured above is the JROTC Robotics Team for WCHS: Tahlia Kelley, Maria Conde, Michael Shilling, and Jobe Holderread.
47 teams competed from across the state of Indiana. There were 42 teams on the waiting list.
Students participated in the Warsaw Robotics Tournament Skills, organized by Abbi Richcreek, on Saturday, February 6, 2021, hosted at the T-RAC, Warsaw Community High School.
Winning the Warsaw Robotics Tournament Skills was Martin Williamson and Erica Williamson, homeschooled from Greenfield, IN.
The champions, Team 3231S Voltage Strike, are pictured below.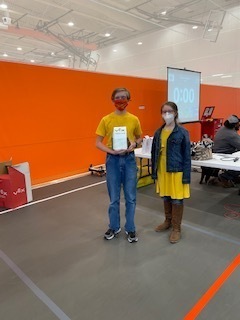 Photo Credit: Abbi Richcreek
#wcsmission #ForwardTogether