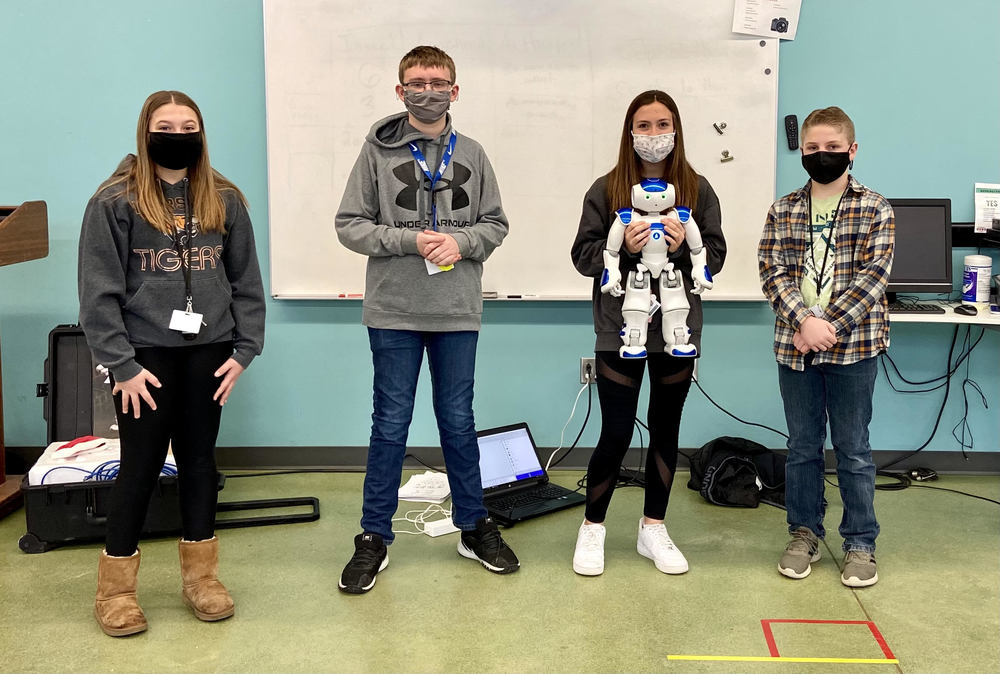 Rowdy the Robot Reads to Kindergartners
WCS District
Thursday, December 17, 2020
Abbi Richcreeks's Edgewood Middle School students Hunter Fitterling (7th grade), Hayden Stookey (7th grade), Taylor Mead (7th grade), and Lucy Ray (8th grade) lead a special event for kindergartners at Washington STEM Academy.
Over the years, Abbi Richcreek's focus on innovative projects led her to write numerous grants. In the summer of 2017, she was awarded a Nao humanoid robot, which was named Rowdy. Rowdy is the first robot to successfully ride a horse programmed by middle school students at a professional performance event. Rowdy and Abbi Richcreek's students have made numerous appearances at nursing homes, community ag events, and elementary schools in previous years.
This year, Hunter, Hayden, Taylor, and Lucy surprised kindergartners with an introduction to Rowdy who demonstrated his abilities through yoga, walking, playing a game, and reciting Clement Clarke Moore's poem 'Twas the Night Before Christmas published in 1823. The children were mesmerized!
Thank you again to Edgewood student leaders for giving Washington students an experience to remember!
Check out Rowdy's Visit to Washington STEM: PHOTO ALBUM
#wcsmission #ForwardTogether