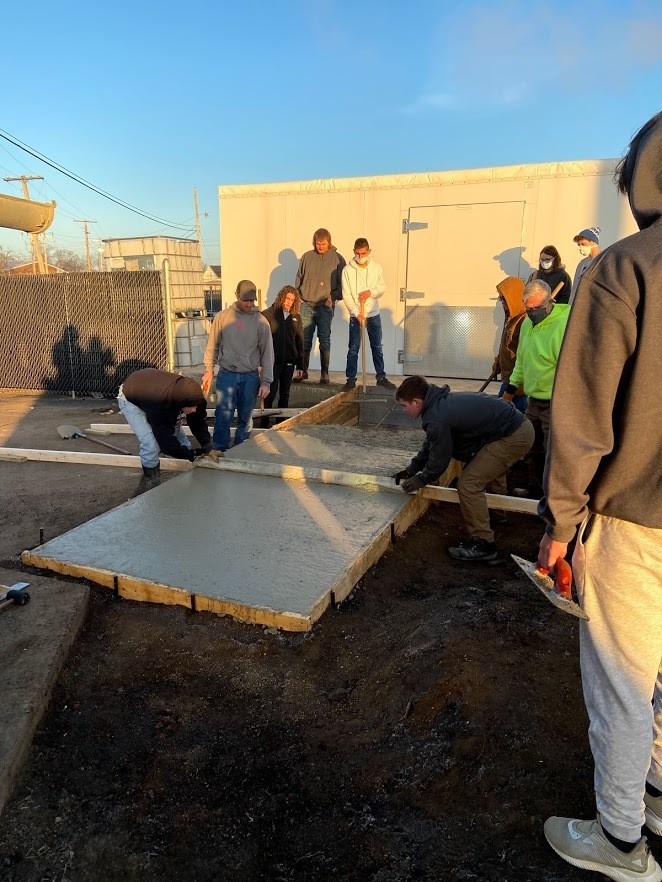 WACC Construction Trades Growth Offers New Opportunities
WCS District
Tuesday, December 15, 2020
Warsaw Area Career Center's Construction Trades I is lending a helping hand across the district. Due to the popularity and growth of the program, there are two rotating cohorts. While one group works on the new house build with Eric Taylor located at 452 E. Rivura Drive, the other group offers its time and talents around the school and community to take on necessary outdoor construction projects. Students are also learning skills such as how to read a blueprint, use tools safely, and measure accurately.
On Thursday, December 10, students and their instructors met with Nate Kline and Kuert Concrete to form, pour, and finish a ramp at Lakeview Middle School. Nate Kline, a local business owner of NK Concrete is a third generation tradesman in construction in Kosciusko County. He is also a former student under Tom Heiman (building trades). Nate Kline donated more than 36 hours to teach the students how to form, excavate, and set up the concrete project. Nate is married to Alysha Kline, WCHS English Language Arts teacher and honed his trade helping his grandfather and local builder, Bob Kline.
Students on this project include Tyler Kuhn, Aaron Mclaughlin, Jaeziah Winegardner, Ayden Sherman, Blake Taylor, Ricardo Verduzco, and Aiden Woods.
Julia Kincaid explained, "Students are learning that concrete is one of the things you can't mess up. You only have one chance to get it right. They learned about the right chemical levels based on the weather and dry time. It's all about offering them great experiences and opportunities to build their resume." Nick Walenga supervised the pour and added, "We are grateful to Kuert Concrete for their support on this project."
Warsaw Area Career Center continues to develop students who are interested in the trades and offer them hands-on learning opportunities to explore a career pathway. More information can be found on the website https://www.warsawschools.org/...