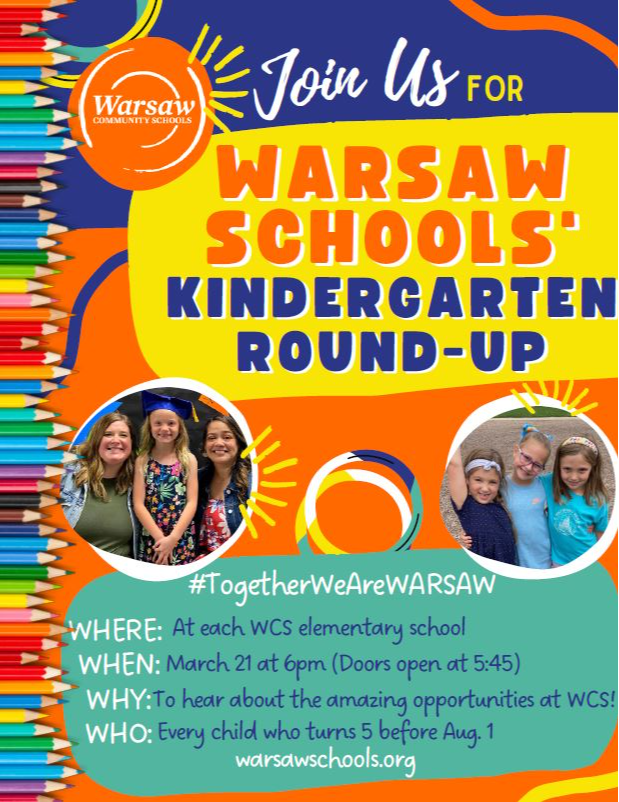 We are excited to welcome families and new students into our schools. Families who choose to live in the Warsaw Community School District have something in common. They place a high value on education and have high expectations for schools. Warsaw Community Schools are committed to meeting and exceeding those expectations. We are dedicated to providing your child with a top-quality education that is both challenging and exciting, and we'll work to meet your child's individual needs. If you are new to the community, you will find that Kosciusko County is a great place to raise a family. Parents are involved in their children's lives and our communities truly put children first!
Step 1 - Complete the Pre-Registration Process
All families will use an online process to register for Warsaw Community Schools. This process begins by completing the pre-registration form. Please select from the following links below to begin the pre-registration process. It is critical that a valid email address is used when completing the pre-registration process.
After completing the pre-registration process, you will receive an email allowing you to complete the full registration process. This typically takes 24-48 hours. These emails will not be sent before Kindergarten Roundup, which takes place on Thursday, March 21st. The email will come from no-reply@warsawschools.org. If you do not receive this email, please double check the spam filter.
Once the pre-registration form is received and approved, you will receive an email from PowerSchool to set up your Parent Portal account and complete the student enrollment forms. Instructions to set up your account are included in the email. You will be asked for several documents during the registration process.
Warsaw Community Schools welcome families who live outside of the Warsaw Community Schools district through our Open Enrollment Program which allows tuition-free enrollment. Students who wish to enroll after January 15 may apply for a transfer on a space-available basis. Transfers end on March 31.
Step 2 - Login to the PowerSchool Parent Portal Account
Step 3 - Complete All Registration Forms
Step 4 - Additional Forms
FAQ: Frequently Asked Questions for New Kindergarten Students
Take care of all of your registration needs in one place at the Warsaw Community Schools' Central Office: 574-371-5098, or visit us at 1 Administration Drive, Warsaw, IN 46580.
Our friendly staff is eager to assist in making your transition into a new school and new community a pleasant one.
The Central Office is open year-round Monday-Friday. Call to schedule an appointment.